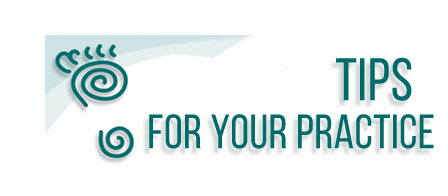 Even if you have a busy clinic and have to turn clients away on occasion, there will be times when there are spaces in your appointment book. Clients go on holidays or a partner is retrenched, the house has to be renovated and …."as much as I'd like to I can't afford my regular reflexology at the moment".
How can we keep our practices busy? After all, our practice is our business and we deserve to do well in giving the therapy we love. The only way to foster your business is to pay regular attention to promoting it. If you have 18 hours to devote to your practice each week, plan to put 3 of those hours towards actively promoting yourself and your practice.
If you see 12 clients per week, probably 4 of these are weekly clients, 4 come monthly, 2 come every 2 weeks and the other 2 are occasional clients.
This scenario will vary throughout the year of course, but it demonstrates how vital it is for you to continuously promote. As the weekly clients move on to a two weekly or monthly regime, gaps start to appear in clinic bookings. Every 6 or 8 weeks you will need a few new clients – where will they come from?
When you get your next year's appointment book, set aside time for planning and promotion.  Book yourself a day of undisturbed time between Christmas and New Year to make a 12 month marketing plan and then program time into every working week of the year for its implementation.
Purchase a special notebook or a special planner to document your marketing events with dates, aims and objectives and a time-line for each activity needed to reach the objectives. These can then be transferred into your appointment book so that you will already have activities planned for the time you have set aside.
Refer back to your original Business Plan to see what has worked for you in the past. It can be fun to play with ways of developing your ideas further. The following shows how  two marketing ideas can be broken down into manageable activities:
Send a newsletter out to all existing clients every 2-3 months.
Activities to be diaried might be:
Enter all clients in the computer mailing list.
Decide on a format – could be just an A4 page with a photo of you in your clinic at the top.
Coincide mailing dates with special events such as Mother's Day, Arthritis Week etc. Research these events and when they occur.
Decide on the content for the first few issues eg: a write-up on a new form of reflexology, a summary of a case study or some research from the RAA journal, FootPrints; a special you have on offer; anything new about healthy living can be useful.
Write the articles.
Do the newsletter layout.
Do the mail-out.
Plan to give 3 talks on reflexology during the year.
Activities to diary could be:
Review groups that you or your friends belong to eg: your yoga class, your friend's Weight Watchers meeting or other groups that like to have a regular speaker at meetings. Select 3 groups that would benefit from your own relexology approach.
Prepare a leaflet about yourself and reflexology slanted towards them.
Phone your contacts and offer to give a talk. Find out how long they would like it to be and   book the dates.
Send the leaflet with a letter of confirmation for each talk.
Plan the talks. You may have one already prepared as part of your course with us. If so review it to see if it will serve the purpose. The RAA also has a Powerpoint Presentation and/or set of overheads you can purchase ready made for such events.
Other ideas for your marketing calendar could include:
Give clients a gift voucher for one of their friends when they have seen you 12 times.
Network with someone every week; form a networking group.