Due to Covid19 and social distancing regulations future date is to be confirmed!
Cost: $1,250.00  + GST         Early bird: $1,100.00  + GST     
Deposit: $300.00  + GST to secure a place
How can I use it in my practice?
In Parts 1 & 2 you will learn a complete Facial Reflexology treatment following 7 basic steps which also include specific treatment for the organ demonstrating the earliest signs of the development of an imbalance. This treatment will take 30 minutes and is an effective modality on its own but can be readily combined with other forms of reflexology or massage to give your clients an exceptional therapeutic experience.
Working both ends of the energy system of the body is powerful and effective. In addition, stimulation of the face improves the blood circulation, lymphatic drainage, muscle tone and nerve function leading to a glowing and youthful complexion!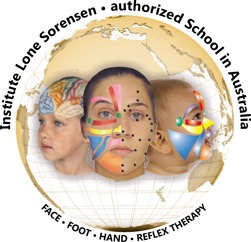 The treatment is relaxing to give as well as to receive. Using the forefingers and gently working the acupoints and facial reflex areas gives your thumbs a well earned rest.
Who can attend?
This course is open to all qualified tactile therapists including reflexologists, massage therapists and physiotherapists.
Course Content
Part I:
Introduction to the Oriental, South American (Mapuche) healing traditions and neurological system, that underpin Facial Reflexology Sorensensistem TM
The seven fundamental procedures of every Facial Reflexology treatment
Methods of reflex assessment to locate levels of imbalance
Practical
Part II:
Meridianology – an introduction to meridians and the Five Element System and their applications in Facial Reflexology
Cranial points and zones – how to identify and use them in a Facial treatment
Practical
Comments from previous course participants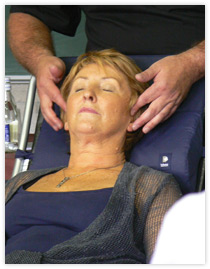 "Hi Sue, I have been working with the 7 steps and besides the treatment being very deep and relaxing it seems to shift underlying problems very fast. My client just had flu which had affected her lungs. She had had 2 courses of antibiotics. After the first treatment the lung congestion returned after the second treatment it had gone; a very quick healing crisis. Another client came in with a very foggy head and pain in her shoulder – 7 steps; more clarity and no pain. I love it….Jennifer Williams, NSW. Thank you."
"I have been doing a lot of facial reflexology since the course and I have had very good results – truly amazing. A client came with sore feet and after facial reflexology and some foot work she walked out pain free, shaking her head as she left in total amusement. My daughter had a very sore back. Her nerve point for the spine was so tender but after three sessions, her back was much better. One client came because of hot flushes and after one session she said her hot flushes were gone and her sleep much improved." Jessie Edwards, Melbourne
About the Presenter
Sue Ehinger, (MRAoA, Dip. Reflex.) has been practising reflexology since 1985. Sue completed her initial training in Switzerland followed by studies with the International Institute of Reflexology. She has studied Chinese methods of Reflexology in Beijing as a guest of the China Reflexology Association, as well as learning the Danish approach in Denmark. She is passionate about seeing reflexology used by more health professionals and her particular focus is postgraduate training for qualified reflexologists. Since training in the various facets of the Sorensensistem in Reflex therapies with Lone Sorensen, she is also accredited to teach this modality Australia-wide and in NZ. Sue practises reflexology and other related therapies from her clinic in Nords Wharf, Lake Macquarie. Phone 02 4976 3988 for an appointment or visit www.journeytowellness.com.au