Next workshop dates TBA
What is Auriculartherapy?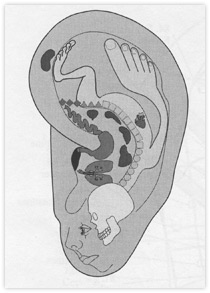 Auriculartherapy is the diagnosis and treatment of body disorders through the stimulation of reflex points on the outer ear. It is used extensively in China and Europe, especially in France, where scientific research has validated its effectiveness.
What conditions can Auriculartherapy help?
Most health disorders can be treated such as anxiety states, depression, addictive behaviour, migraines and skin conditions. It is particularly effective in the treatment of muscular-skeletal pain.
Topics covered in this workshop include:
Anatomical Structure of the Ear
Locations & Functions of the Auricular Points
Auricular Diagnosis
Indications & Contraindications
Types of Stimulation, probes, magnets, etc
Treatment of Common Disorders
Reflexologists find this workshop invaluable as these skills increase effectiveness – especially in the case of back, neck & shoulder problems.
What others have said about this workshop:
This was one of the best workshops I have attended. I have known Sue Ehinger, who presented this workshop, for many years, but this was the first time she had been my teacher! It was a great weekend.
Gail Blamey
Thoroughly enjoyable and well-presented workshop.
Patricia Jancovich
Great course, well presented. The book is invaluable.
Cathie Bromwich
Sue is a gifted woman and inspirational. I feel grateful for her teachings.
Marisa Rowntree
About the Presenter
Sue Ehinger, (MRAoA, Dip. Reflex.) has been practising reflexology since 1985. Sue completed her initial training in Switzerland followed by studies with the International Institute of Reflexology. She has studied Chinese methods of Reflexology in Beijing as a guest of the China Reflexology Association, as well as learning the Danish approach in Denmark. She is passionate about seeing reflexology used by more health professionals and her particular focus is postgraduate training for qualified reflexologists. Since training in the various facets of the Sorensensistem in Reflex therapies with Lone Sorensen, she is also accredited to teach this modality Australia-wide and in NZ. Sue practises reflexology and other related therapies from her clinic in Nords Wharf, Lake Macquarie. Phone 02 4976 3988 for an appointment or visit: www.journeytowellness.com.au