This is a postgraduate Diploma presented by the International Institute of Facial Reflexology and taught by Sue Ehinger the only accredited trainer of Facial Reflexology Sorensensistem TM in Australia.
The course is made up of 5 Modules over 10 days as follows:
Parts 1 & 2 held over 4 consecutive days
Parts 3 & 4 held over 4 consecutive days
Part 5 held over 2 consecutive days
After each level of training the practitioner can incorporate the new techniques into their practice.
Course content
Part 5
This module refines the therapist's selection of treatment plans and protocols and includes the advanced use of Yamamoto points on the head and face for a range of health disorders. It is held once a group of students has completed Modules 1-4.
Following the successful completion of all 5 modules, 2 case studies and an assessment, students will be awarded a Diploma in Facial Reflexology Sorensensistem TM.
About the Presenter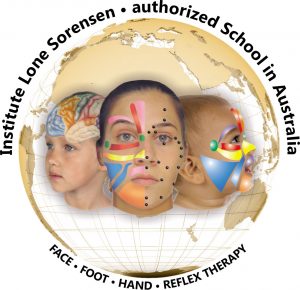 Sue Ehinger, (MRAoA, Dip. Reflex.) has been practising reflexology since 1985. Sue completed her initial training in Switzerland followed by studies with the International Institute of Reflexology. She has studied Chinese methods of Reflexology in Beijing as a guest of the China Reflexology Association, as well as learning the Danish approach in Denmark. She is passionate about seeing reflexology used by more health professionals and her particular focus is postgraduate training for qualified reflexologists. Since training in the various facets of the Sorensensistem in Reflex therapies with Lone Sorensen, she is also accredited to teach this modality Australia-wide and in NZ. Sue practises reflexology and other related therapies from her clinic in Nords Wharf, Lake Macquarie. Phone 02 4976 3988 for an appointment or visit: www.journeytowellness.com.au